New Mazda The Secret Behind the Revolutionary Engine in the 2020 Mazda3 in Suffolk County, NY for Sale in Riverhead, NY
Now on the fourth generation of Mazda3, the 2020 Mazda3 in Suffolk County, NY offers a multidimensional vehicle that is built to last.
It is well known that Mazda is experiencing massive growth, with yearly sales now exceeding 1.5 million vehicles, and fast approaching 2 million. One of the greatest contributors to this growth is the 2020 Mazda3, designed with the latest advances, making the 2020 Mazda3 technology more capable than any model before. But what exactly is it underlying the 2020 Mazda3 in Suffolk County, NY that makes it the most advanced design to date?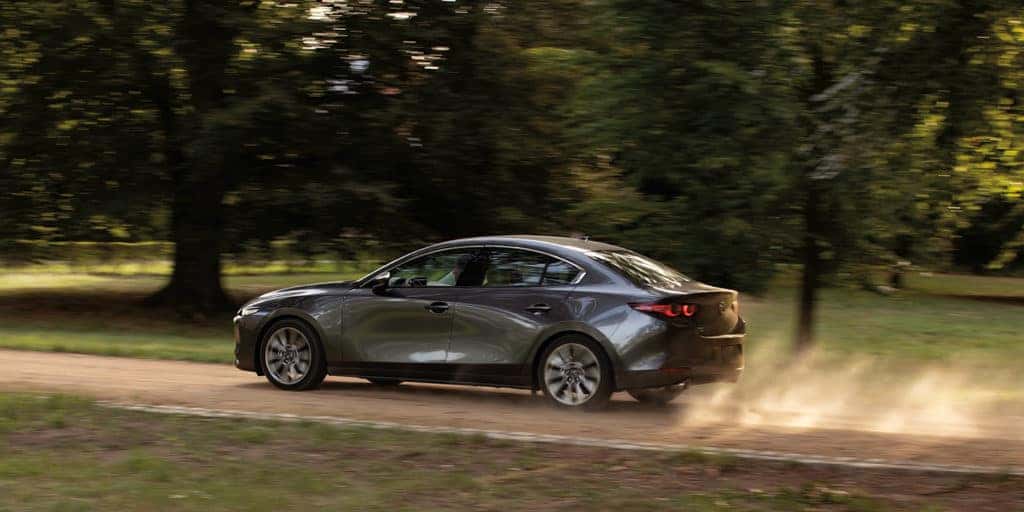 The 2020 Mazda3 features the latest generation of SkyActiv Technology with a SkyActiv-X engine based on homogeneous charge compression ignition (HCCI) technology, termed a "supercharged, mild hybrid, diesel inspired gas engine."
In other words, the 2020 Mazda3 features a brand-new round of updated systems that allows the 2020 Mazda3 in Suffolk County, NY to offer the best of both diesel and gasoline engine technology by combining them into a groundbreaking new technology of its own, SkyActiv-X.
The 2020 Mazda3 in Suffolk County, NY harnesses the high force of pressure induced ignition with no engine damage, a process known as combustion ignition. This sparkless combustion is at the core of the 2020 Mazda3 in Suffolk County, NY.
Compression Ignition is normally known for the operating force behind diesel engines. Fuel and highly compressed hot air are sprayed into the combustion chamber, inducing an explosion, rather than igniting the fuel-air mixture with a spark plug like a gasoline engine.
Unbeknownst to many, the diesel engine is actually highly efficient because the ignition method allows the fuel-air mixture to explode at the maximum range of motion available in the combustion chamber, taking advantage of the cylinders' full capacity.
However, because diesel burns at a slower rate than gasoline, diesel engines are not as effective at producing high RPM's. That's where Skyactiv-X comes in, merging the efficiency and compression ignition typical of the diesel engine- with the gasoline engine's responsive high RPM performance. The 2020 Mazda3 in Suffolk County, NY thus, offers an engine that moves strongly throughout the entire revolution and range of movement within the cylinders.
This technology is what Popular Mechanics has dubbed "Mazda's smartest ignition yet".
As a hybrid of diesel and gasoline technologies, the Spark Controlled Compression Ignition (SPCCI) of the 2020 Mazda3 in Suffolk County, NY, uses the spark plug on and off as a control mechanism to handle a wider range of loads, operating conditions, and temperatures.
What's different and even better now is that the fastest processor speeds available yet with the 2020 Mazda3 in Suffolk County, NY enable the vehicle to finely tune fuel injection and spark management. The SkyActiv-X engine has spark plugs and can alternate between SPCCI and conventional spark-ignition mode. This new mode is utilized mainly during typical daily driving activities, and spark-ignition is used for activities such as cold starts and high RPM's.
The 2020 Mazda3 in Suffolk County, NY is also supercharged, the Mazda way. This means, that instead of performing like an average supercharger, packing extra air into the combustion chambers and allowing the engine to mix it with extra fuel, Mazda takes this technology a step further by introducing efficiency. The 2020 Mazda3 in Suffolk County, NY has a supercharger that makes sure the vehicle keeps an optimal fuel to air ratio at high RPM's.
This snapshot of a few fundamental factors in the 2020 Mazda3's better than ever performance demonstrates what makes this vehicle truly unique. If you have more questions about the 2020 Mazda3 in Suffolk County, NY or would like to see for yourself, visit us at 1320 Old Country Road, Suite 2 Riverhead, NY. You may also call us at 888-415-7422 for the latest on the 2020 Mazda3 in Suffolk County, NY or any Mazda vehicle.
We appreciate your interest in our inventory, and apologize we do not have model details displaying on the website at this time. Please fill the form out below and our team will quickly respond, or, please call us at 855-938-1798 for more information.